Acutrak® Headless Compression Screw System
Scaphoid Approach to Dorsal Fixation using Acutrak 2 Screw with Robert Bass, MD
In this video, Dr. Bass demonstrates using the Acutrak 2 Mini Screw to effectively secure a fractured scaphoid.
Triple Arthrodesis Cadaveric Lab with Nicholas Abidi, MD
A triple arthodesis fusing the talonavicular, subtalar, and calcaneocuboid joints is performed using Large Acutrak 2 4.7 and 7.5 screws. The rationale for the use of the screws, radiographic evidence, and surgical steps are provided.
---
Acutrak 2 Jones Fracture Surgical Technique Animation
An animated version of Acumed's recommended surgical procedure for reducing and fixating fractures of the fifth metatarsal using the Acutrak-4.7 cannulated screw.

Excellence, Backed by Evidence
More than 2 million Acutrak family screws have been implanted since 1994, supported by more than 100 publications, including clinical and biomechanical studies.
Acutrak 2 Applications
Upper Extremity Solutions
Radial Head Fixation
Capitellum Fixation
Olecranon Fracture
MCP Fusion
Scaphoid Fracture/Nonunion
DIP & PIP Fusion
Four-corner Fusion
Ulnar & Radial Styloid Fracture
Lower Extremity Solutions
Femoral Condyle Fracture
Patella Fixation
Triple Arthrodesis
Ankle Arthrodesis
Calcaneal Osteotomy
MTP FusionTMT Fusion
Subtalar Fusion
Jones Fracture
DIP & PIP Fusion
Learn more about Acutrak 2
An Industry First
Acutrak Headless Compression Screw System
Released in 1994, the original Acutrak Headless Compression Screw was the first fully threaded headless compression screw on the market with continuously variable thread pitch.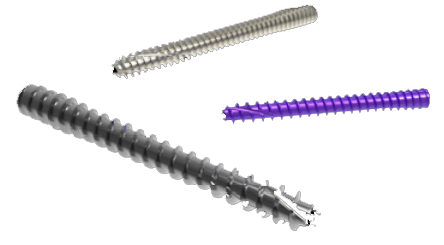 Hammertoe Fusion
Fixation using the Acumed Hammertoe Fusion System

Wheeler DL, McLoughlin SW. Biomechanical assessment of compression screws. Clin Orthop Rel Re 1998;350;237-245.